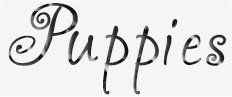 Planned Litter | Current Litter | Previous Litter

B-Litter

born on 21. 01. 2014, 4 boys, 3 girls, blueroan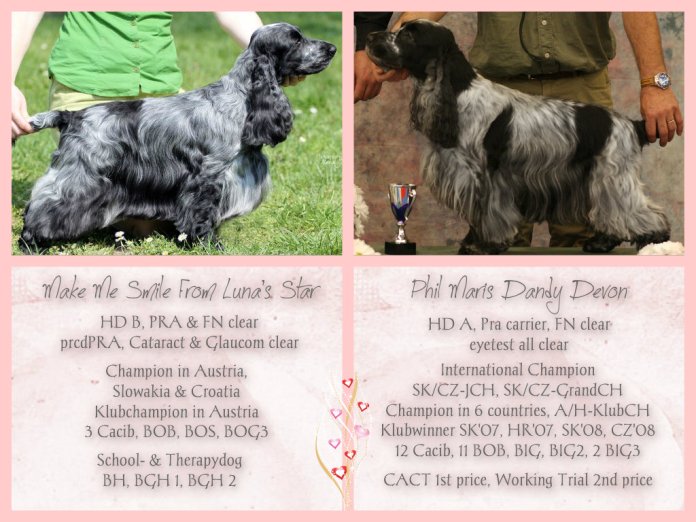 For me, the breedingmale Dandy combines for me all essential points of breeding:
health, character and beauty!
Apart from this, Dandy is so lovely, has a dreamful behavior - I got to know him in advance personally - and he is with his 9 years absolutely healthy and topfit!

On evening of 21. january our 7 little puppies were born.
Joy gave birth to the little ones very quick and without any problems in only 3 hours. I'm so proud of Joy!
We have so much pleasure with this little cuties!

If you are interested in a little Manjuno's, please contact me!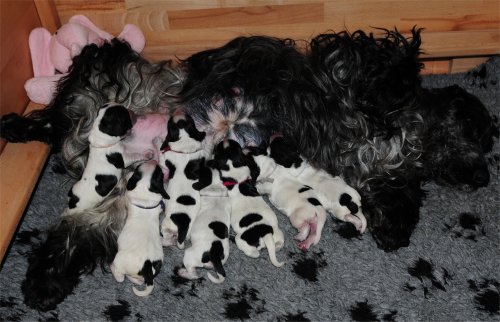 | | | | | | |
| --- | --- | --- | --- | --- | --- |
| Manjuno's Bittersweet | male | | blueroan | 17:40 | 330 g |
| Manjuno's Bedtime Story | male | | blueroan | 17:50 | 325 g |
| Manjuno's Beauty Fame | female | | blueroan | 18:05 | 325 g |
| Manjuno's Blue Pearl | female | | blueroan | 18:35 | 310 g |
| Manjuno's Blissful Dreams | male | | blueroan | 18:50 | 290 g |
| Manjuno's Beloved | male | | blueroan | 19:25 | 275 g |
| Manjuno's Be My Beauty | female | | blueroan | 20:25 | 340 g |
| | |
| --- | --- |
| Bittersweet - *SWEETIE* | Blissful Dreams - *DANDY* |
| Bedtime Story - *BILLY* | Beloved - *HENRY* |
| Beauty Fame - *FAMIE* | Blue Pearl - *FUNNY* |
| | Be My Beauty - *LUNA* |
Pedigree of the puppies
PARENTS

GRANDPARENTS

G-GRANDPARENS

GG-GRANDPARENTS

Int-CH, Multi-CH
Phil Maris Dandy Devon

HD A
PRA b, FN clear
Int-CH
Phil Maris Gavroche
P-CH
Bitcon Matchpoint
GB-CH
Bitcon Troubadour
GB-CH
Bitcon Moonlight Memories
Int-CH
Fils Merilyn Maris
GB-CH
Courtmaster Mr. Magic
Rus-CH, CZ-CH
Uni Felitche
Int-CH
Phil Maris Driada
Multi-CH
Stocdale Dragon's Sonata
Pt-CH
Lynwater Tiger Moth

Lullu's Back in Town from Duntarvie

Rus-CH, CZ-CH
Uni Felitche

Wedelta's Golddigger

Moonlight's In Juin

Multi-CH
Make Me Smile from Luna's Star

HD B
PRA&FN clear
NL-CH
Mistily's Chatterbox
SE-CH
Mistily's Amber Gambler

Speechouse San Antonio

Roqfolly Rosie Carver

Charbonnel Grace'N'Favour

Terriles Toyoyama

Charbonnel Kiss'N'Cuddle

Dan-L's Wise Portia

GB-CH
Manchela Blue Lagoon
GB-CH
Withiflor Otis Blue

Manchela Candleglow

Dan-l's It's About Time

DK-CH
Ladlor Libido
FIN-CH, DK-CH
Dan-L's Time Out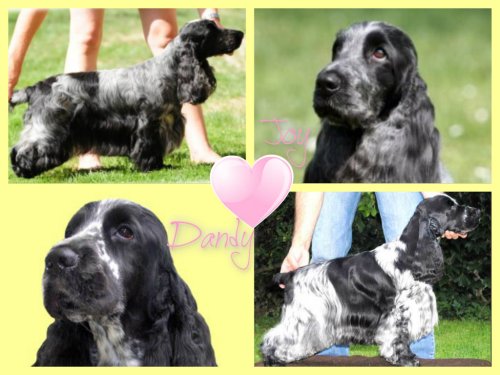 Pictures from daddy of our puppies: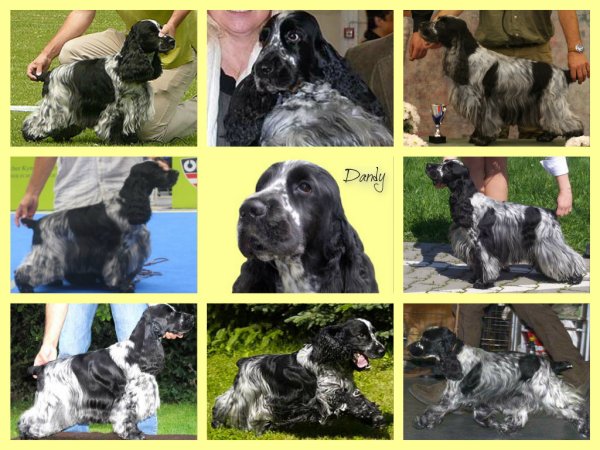 Pregnancy Diary

21./22. 11. 2013
Joy had two dates with Dandy. They love each other and start mating. Mating last 20 minutes on first day and 30 minutes on second day.
Dandy is a true gentleman, he gave Joy kisses into her face during the mating!

21. - 27. 11. 2013 / 1. week
The sperm travels outside the uterine lining to the fallopian tubes. There, the eggs are fertilized and then migrate into the cervix.

28. 11. - 4. 12. 2013 / 2. week
The eggs develop into blastocysts. They reach the uterus in the end of the 2nd week. Joy developed a very good appetite.

5. - 11. 12. 2013 / 3. week
The blastocysts implant themselves in the uterine wall and form there embryonic vesicles. At this time, many females suffer from morning sickness, but Joy feel great, she eats a lot. However, Joy is much more affectionate.

12. - 18. 12. 2013 / 4. week
This week, the development of the organs begins, also the nerve strands form the spinal cord. The head has begun to develop and form tiny buds from which, finally, the front legs come. The little ones are at the end of the week, about 2 cm in size and all major organ systems are applied. The heart beats. Joy has now developed a real cravings, she begs like a champ! Only two days Joy has denied a treat in the morning, what gives us hope. :-)

19. - 25. 12. 2013 / 5. week
Joy's teats begin to turn pink, which is a good sign! :-) The final morphology of the puppies can be seen in its main features, toes, facial hair, lips, claw and the coat color now begin to develop. The little ones are at the end of this week, about 3.5 inches tall. Basically, Joy can no longer deny being pregnant. We have eagerly anticipated pregnancy-mucus seen, who snag as owl. And Joy is getting widther and widther in the loin :-) We are pleased totally!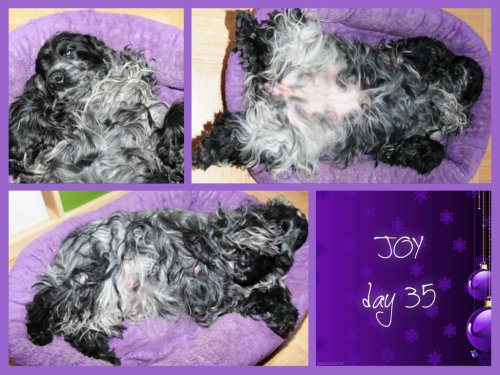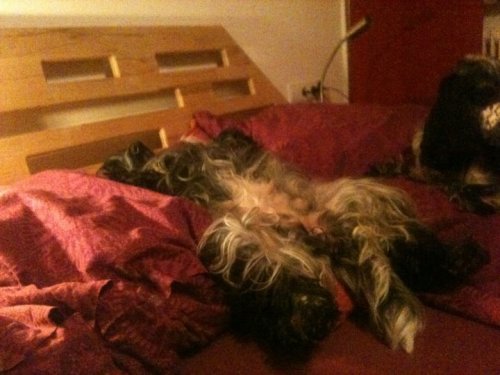 27. 12. 2013
Today is the big day ... we went to the ultrasound with Joy! Due to the size of the little ones we could not count them well, but we saw 4 puppies immediately. The vet suggested, however, that there are more puppies. It was so fascinating as the little ones look like real puppies, have their body, the head and the front and rear legs. One of the pups struggled with his forelegs repeatedly against the pericarp. To see all this was an indescribable experience for us!

26. 12. 2013 - 1. 1. 2014 / 6. week
Joy is getting increasingly thicker, she has now grown already 2 kg, which is quite exhausting for her. Saving for Joy is that I also broken her feeding on 5 meals a day. Joy sleeps a lot, but is still happy to walk. Also, we had a good New Year's Eve. Now, in addition milk bar begins to grow. The little ones are now approximately 6.5 cm in size.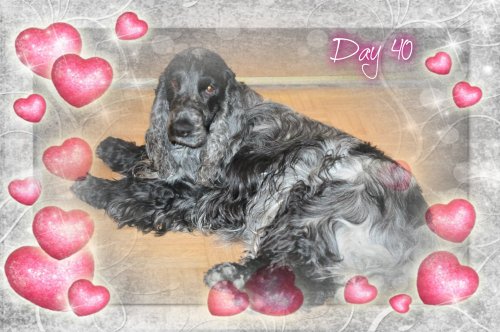 So we can slide ... ahm sleep ... well into the new year ...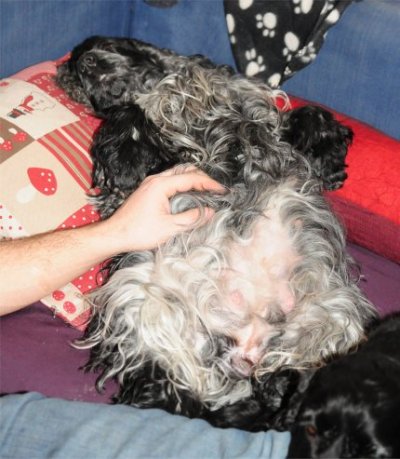 2. - 8. 1. 2014 / 7. week
Joy has already increased her weight to 3 kg and 14 cm more abdominal circumference. It is perfectly round and big belly becomes increasingly tedious for her. The bones of the puppies have intensified and when Joy is very relaxed and you put your hand on her stomach, you may can feel kicks of the little puppies that are now approx 9 cm size. If mummy Joy feels hot, too her babies are panting in the belly.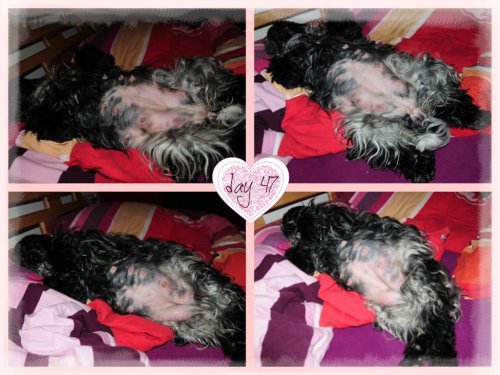 9. - 15. 1. 2014 / 8. week
Joy's belly is getting bigger and bigger and slowly it is really troublesome for Joy. The seizure is even more torture, simply because there is no space in the stomach. Joy has in the end of the eighth week decided that it is now time, to eat nothing more except Frankfurt.




16. 1. 2014 / Underwater Football
I could sit for hours at Joy and watch her belly. Everywhere the puppies move quite nicely. Two I noticed especially in the last few days. I just let my imagination run wild and say that there are certainly two boys who always play under water football :-) But see for yourself:



17. 1. 2014 / X-Ray
Today we went to the vet to know how many hidden pups Joy has in her belly. This gives us a sense of security during birth because we just know whether Joy may already be finished or whether in any case still puppies must be in her belly. And we have counted 7 small Cocker heads ... a very nice bustle in Joy's belly :-)