I'm living in the little village Ginzersdorf which is part of my homevillage Grosskrut in the Winedistrict / Loweraustria. Here I bought a wonderful areal for me and my dogs and built an house on it. Round us there are fields, vineyards and small woods - in just few steps in each directions we have pure nature - a wonderful place for long walks with my dogs.

I bought my first Cocker Spaniel - my black Julie - after my degree in May 2008 together with my former lifecompanion. Until my begin as a teacher on a confederation-advancedlevel-realhighschool were some months and there I could spent all my time with my dog. That it should be an English Cocker Spaniel I knew years ago.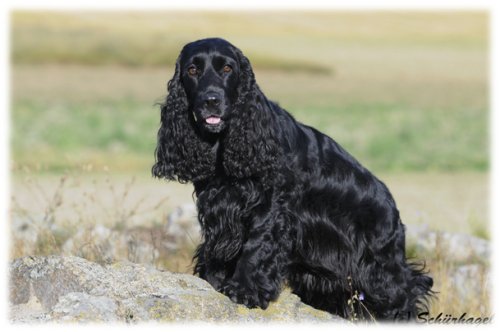 My former lifecompanion grew up with a Cocker and I felt in love with this breed as I was 8 years old. Julie is not from a FCI-breeder, unfortunately we didn't inform us before buying her, although Julie enriches our life a lot and we visited obedience-courses and a group of agility, so that it didn't take long time until we had our first starts at tournaments. Also breeding thoughts were circling in my head. As I'm a hopeless perfectionist, it was clear to me, that I want to breed under the Jagdspanielclub/ÖKV. So I made all health checks with Julie and visited some shows with her. Unfortunately the eyetest had a bad result. Julie has a cataract on both eyes. This was not easy to digest, but the more I'm looking forward that the cataract didn't get worser and Julie has no impairments.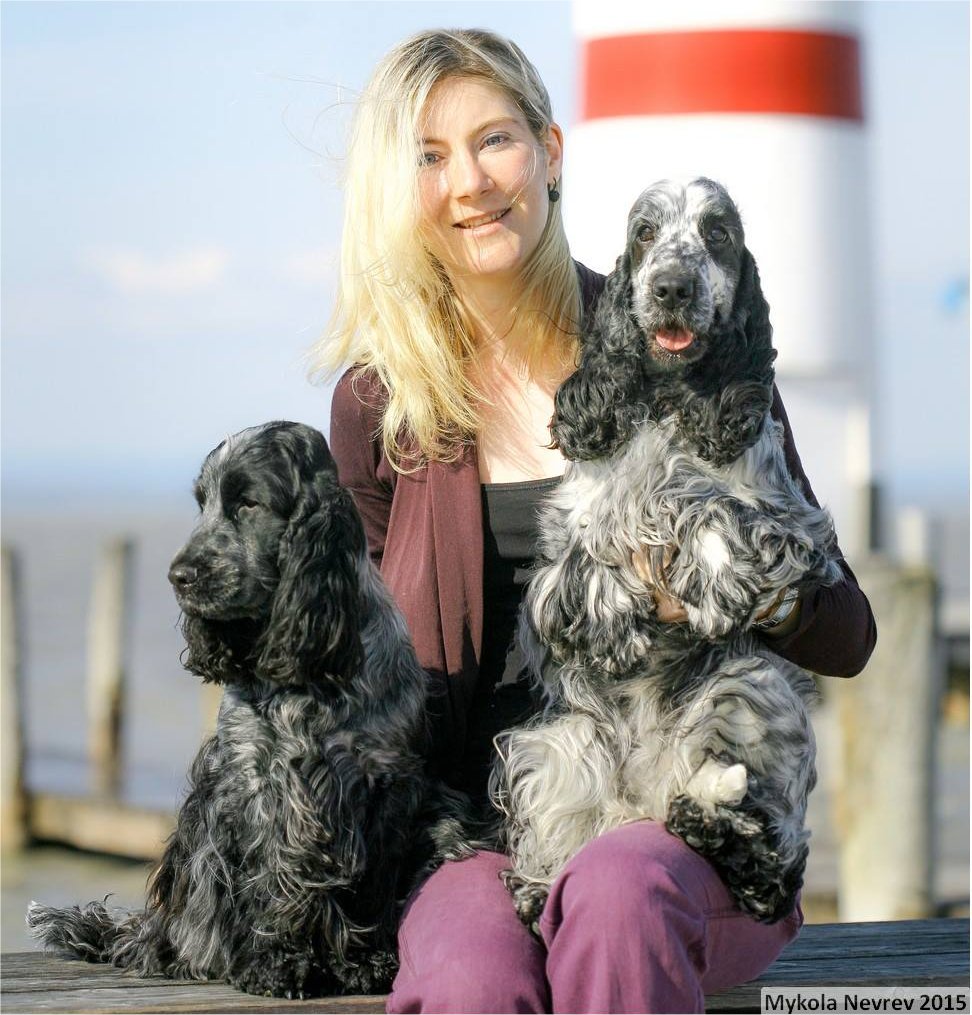 The breeding thoughts didn't let me go. So it didn't take long time, until the wish for a second cocker-girl rised high. This time it should be a particolour bitch. In November 2009 I found after long search a suitable mating and blueroan girl Joy went to us from Holland. Julie and Joy loved each other from first moment on and it was a pleasure to see them together.

We visited also with Joy some obediencecourses and exams. As Joy has a really docile nature I decided to make the education for therapy- and schooldog with her. With Joy I found out that we have lots of fun in visiting dogshows and we reached in short time to get the International Champion. 2012 my first & 2014 my second litter with Joy came. From first litter I kept Juno and Gracie - my first own offspring. Totally not planned was to keep a girl from second litter, but mostly it comes different than thought. Famie is the best that could have happen to me. In the meanwhile Joy is grandmum and greatgrandmum of numerous Cockers and her kids, grand- and greatgrandkids are bringing to me the same pleasure as her kids.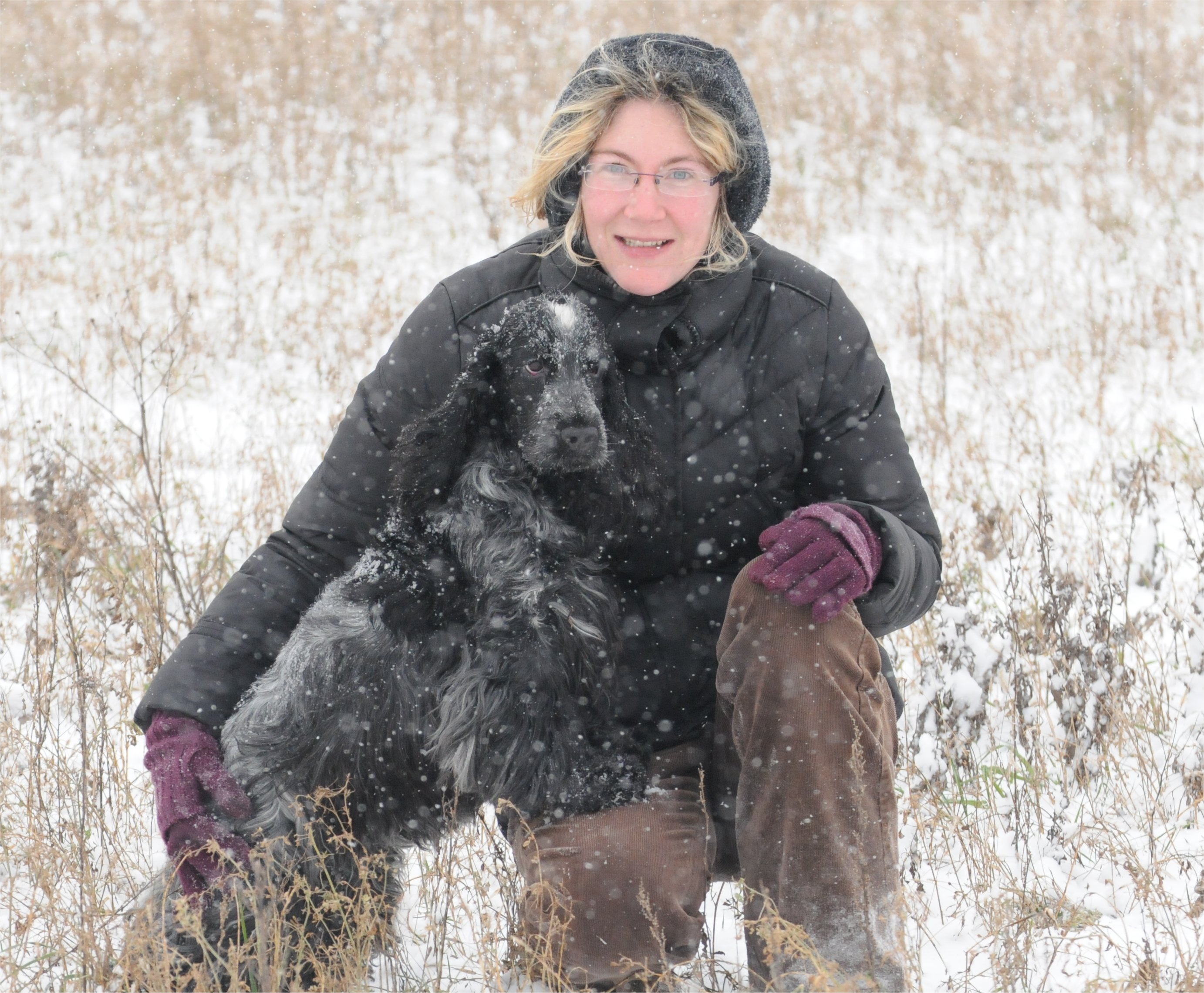 My cocker lives with me in my house. It is really important for me, that they can share my life. We are a family. I attach big importance to health and behaviour of my dogs and I love to work with them individually. My whole family loves my girls and boys and help me a lot with all my plans. A special thanks goes to my grandmum, who died 2023. Without her constant help in the beginning of my breeding of this wonderful breed I wouldnt stand their where I am now in the breeding.
Some years ago the wish came to my mind, to do more for the English Cocker Spaniel and the cynology in general. I started the education for becoming a judge of English Cocker Spaniels, which I passed successfully in September 2020. After some judgements I started education for all other Spaniel breeds. Since 20223 Im judge for all Spaniel breeds.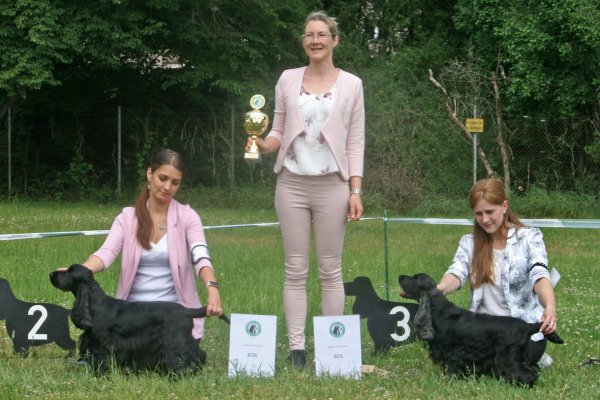 I too wanted to do something in the regional cynology in our club. 2017 I got vizehead of our regional group Vienna of ÖJSpK and I organised since than different club activities, walkings, seminars, meetings. In january 2023 I finally was selected as head of the regional group Vienna after our longtime head stopped his work. More about our activities you can find on our regional group webpage: www.wien-spaniels.at.

A sepcial event, I organised 2019 for the first time, is the Vienna Spaniel Show at Castle Wolkersdorf, a regional clubshow for our Spaniels, that in the years went to a very popular international and big event.