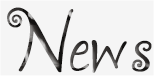 2021 | 2020 | 2019 | 2018 | 2017 | 2016 | 2015 | 2014 | 2013 | 2012 | 2011 | 2010

24. 12. 2012


Julie, Joy, Juno & Gracie, Mani & I wish you all a Merry Christmas!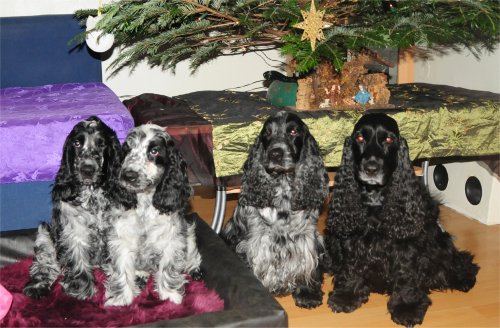 23. 12. 2012


One of my biggest christmas presents arrived short before christmas! Now it is official...
Make Me Smile from Luna's Star *JOY* is now AUSTRIAN CHAMPION and AUSTRIAN CLUBCHAMPION!!!
Ich bin so unendlich stolz auf mein Mädchen!



10. 12. 2012


Joy looks fantastic 3 months after her babys and so we decided to show her on IHA Wels.
The results are great. Joy got Exc.1, CACA, resCACIB. IHm sooo happy about our success and expecially about Joy's soooo lovely judgereport.

So now Joy fullfilled all conditions for the Austrian Champion and the Austrian Clubchampion! What a great year for our girl!

More pictures from the show you will find in the album "Ausstellungen"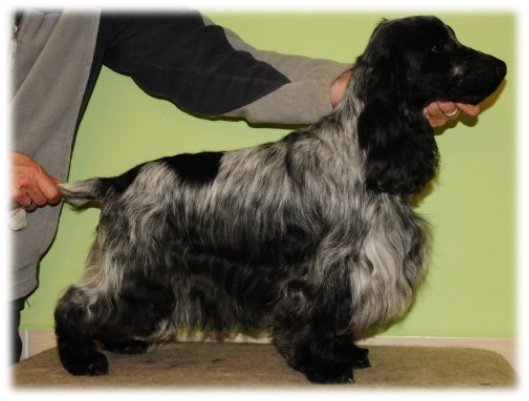 10. 12. 2012


How time flies, since our little ones left us. All our girls are doing great in their new homes and their new owners always send me pictures and videos, whome you can see soon on our webpage.

As december is always a months full of stress, I will tell you now in summary what happend the last month.

First Gracie went to my grandmum. She is very happy at my grandmum and she loves to play with gramdmum's cat Tommy.

With Julie I started on beginning of december on an agility-test in Korneuburg. We hat no training, but Julie did really well, so that Im really satisfied with Julie. Juno and Gracie were with me, so that they can learn how it is to be on a tournament.



14. 11. 2012


On sunday Angie left us with 10,5 weeks, she went to her new family on the border of vienna. And today Healy went with 11 weeks to her new family in the near of Graz. I'm happy that I found such great families for my little ones. But saying goodby is veeery hard and painful with lots of tears.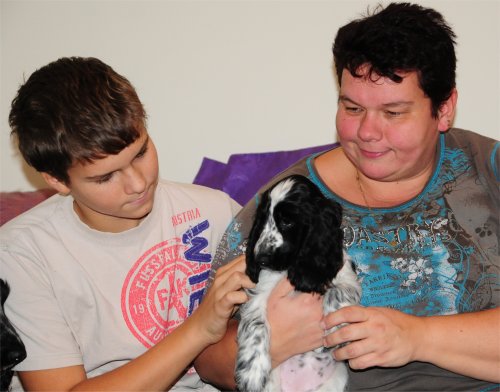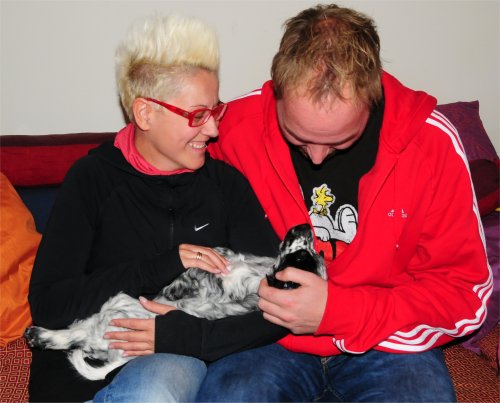 27. 10. 2012


Not to believe. Our girls are 8 weeks old! We where at vet for chipping and vaccination. The girls were good girls and with treats all was no problem. Today our breeding chief from our Club was here looking for the litter. Too here is everything alright.
Manjuno's About A Girl *JUNO* will stay here, I felt so much in love with this girl. Manjuno's Amazing Grace *GRACIE* will live with my grandmum. Manjuno's Angel in Blue *ANGIE* will leave us in two weeks, she will go to a family in vienna, where she will live with her new big sister Tahiti. And *HEALY* - Manjuno's Autumn Bless is still searching for a lovely home! Many new pictures of the little ones you will find under "puppies - current litter"!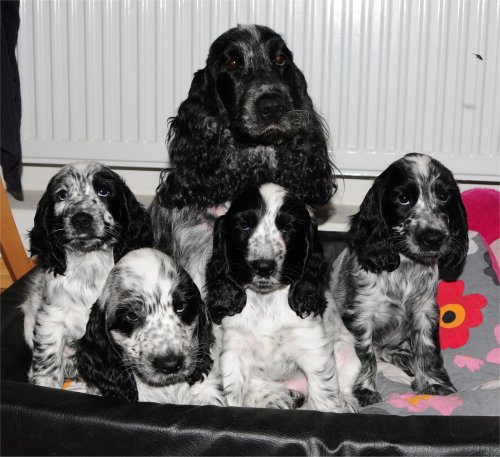 5. 10. 2012


How time flies! This time we have lots of new pictures under "puppies - current litter", we too made a little photoshooting with the little ones!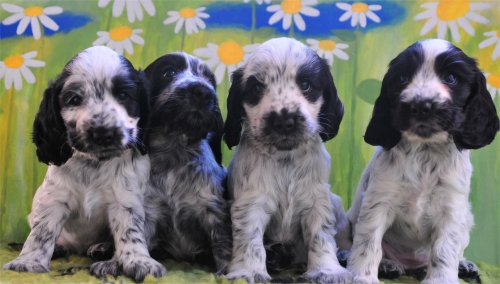 27. 9. 2012


Our girls are another week older. the little ones are developing great and they are now quick in moving!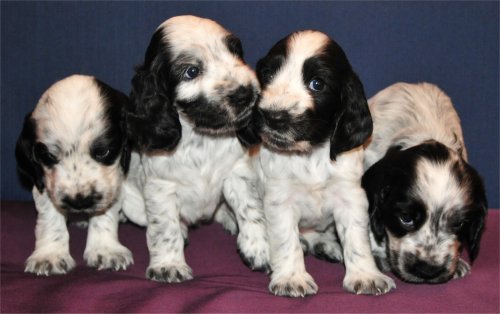 13. 9. 2012


Joy's firls are now 2 weeks old. The little ones are looking now through their eyes in the big world, try to go some steps and start to play together and with me!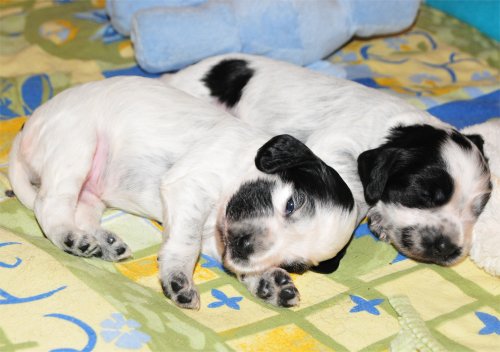 6. 9. 2012


Our 4 girls are now 1 week old! They develope great and gained good weight. Many new pictures and a first video from the little ones you will find under "puppies - current litter"!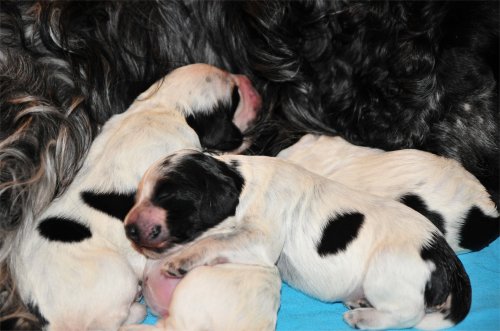 31. 8. 2012


Our puppies arrived!!!
Joy gave birth in the night to friday to 4 little blueroan girls on 30th august! Joy had a quick birth of only 1,5 hours, she made all great and very instinctive. The little ones and their mother are doing great!
More you will find under "puppies - current litter"!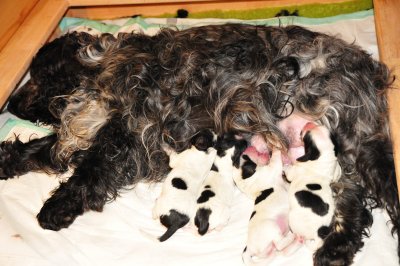 12. 8. 2012


Mani is building our whelpingbox! I think I'm getting really lovely whelpingbox from him!!!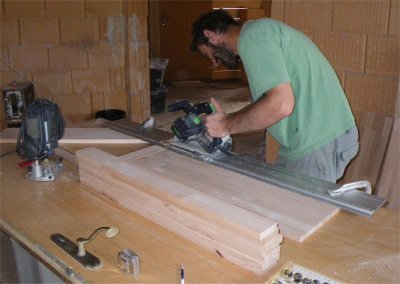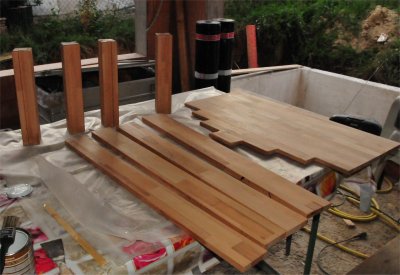 31. 7. 2012


Yippie ... Joy is pregnant!!!
Today we were at ultrasound with Joy and vet saw 4 puppies!
They are 1,7 cm and most important ... all 4 hearts have strong beats!
We are expecting birth of the puppies on 2nd september - Joy's 3rd birthday :-)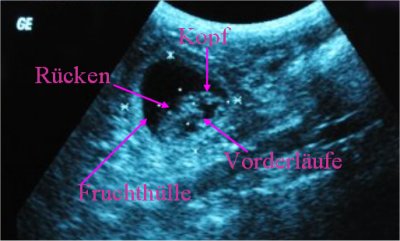 5. 7. 2012


Our journey to Holland
On saturday I started trip to Holland with Joy. We spent night in Nürnberg und drove on sunday directly to Gerda van Empel and her male Worlewood In It To Win It - Adam, whome I selected for Joy's first litter. The two Cockers liked each other and the mating was super. On the evening of the next day we repeated the mating. Joy had much pleasure as we arrived again at Adam, I think she loves what happend day before :-)
More about our mating you will find under planned litter.
These days in Holland I spent with Finet Krediet and her girls. Joy and Nyssa where in love, as Nyssa too had her hot days. Many thanks to Finet that we could live with you.
On monday we visited Joy's breeder Lajla Steen as a surprise. She saw Joy first time after she gave her to me with 9 weeks and she had a lot of pleasure to see her. We had opportunity to make familypitures.
It was a wonderful trip and now we hope, that we will take some puppies back at home from our journey!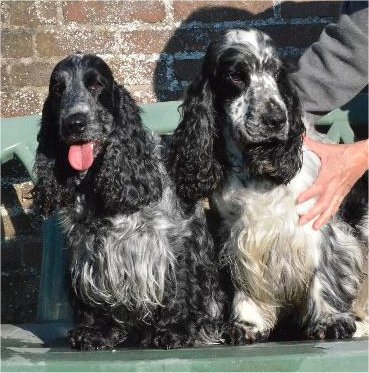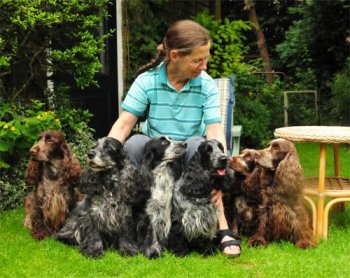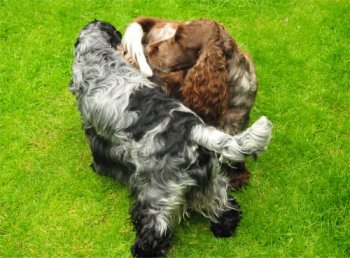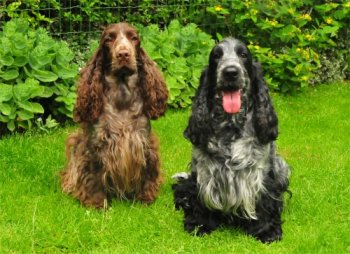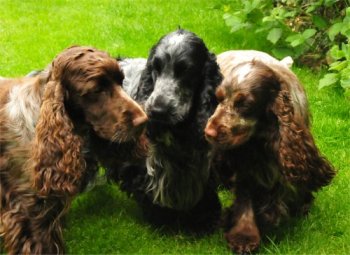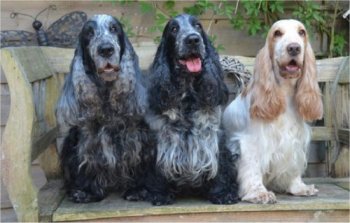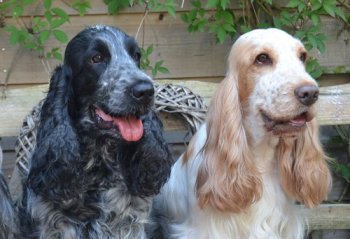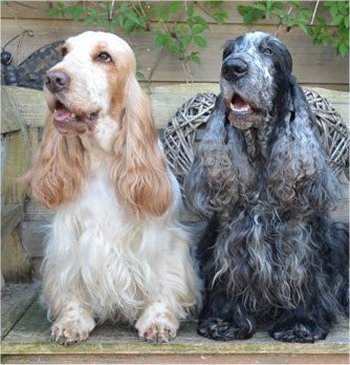 18. 6. 2012


A wonderful weekend in Bled SLO is behind us. We had a really lovely room, wonderful weather and nice success! On saturday we drove to IHA Klagenfurt, where Joy got her 5th Exc.1, CAC on an austrian show. On sunday Joy got on her first openair-show on Cacib Bled an Exc.2, resCAC! We are very proud of Joy! After the show on sunday we drove to the Lake Bled, where Julie and Joy had big pleasure enjoing the water!

More pictures from the shows you will find in the album "Ausstellungen"

More pictures from fun in the Lake Bled you will find in the album "Spaß im Wasser"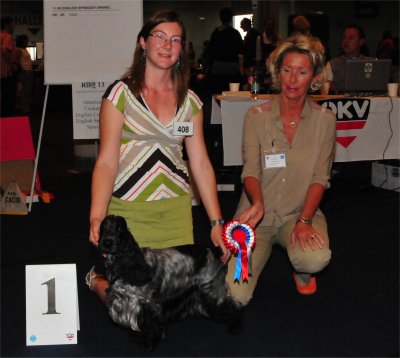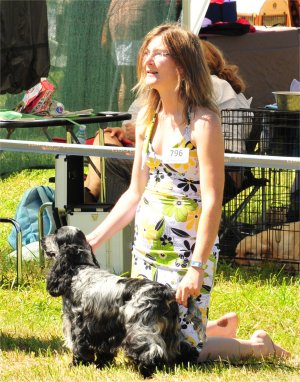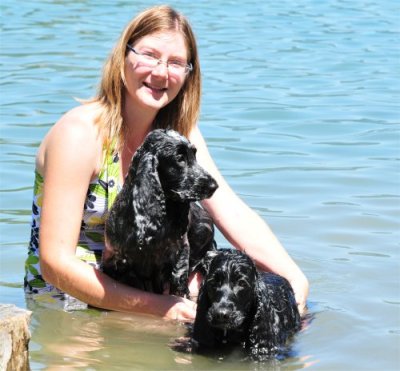 11. 6. 2012


As Joy isn't thinking about going into puppy-pause, we decided to show her another two weekends.
This weekend we where in Nitra SK on Double-CACIB. The weather was awful, but the success big :-)
Make Me Smile from Luna's Star *JOY* got on both days Exc.1 CAC! We are soooo proud of our girl!



17. 4. 2012


On saturday we were on our last show before Joy's puppy-pause - the IHA Wieselburg. It was a rainy day and it started painfull with falling on the ground on the way to the showhall. But Joy saved my day with getting Exc.1 CACA in open class!

More pictures you will find in album "Ausstellungen"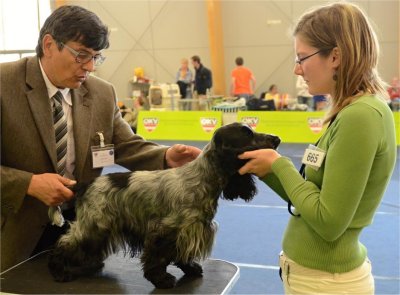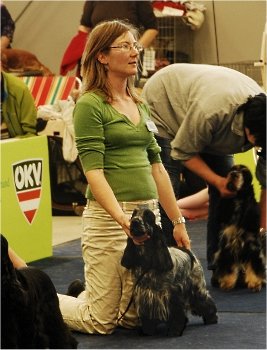 9. 4. 2012


On eastersaturday we were on Clubshow from Cockerclub CZ in Brno.
It was a really nice show and we are very, very proud of Joy as Joy (Make Me Smile from Luna's Star) won open class against lots of nice bitches!

More pictures you will find in the album "Ausstellungen"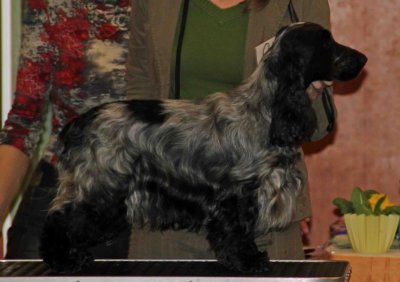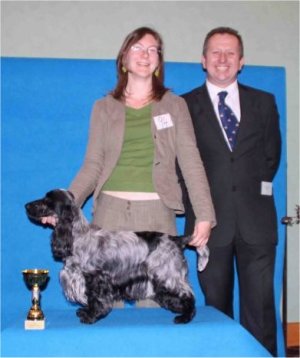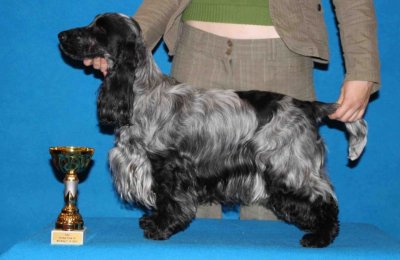 29. 3. 2012


I was with Joy at clinical eyetest and I'm so happy as everything is alright. Joy is again free from cataract & PRA. I too made goniskopy this time and I'm happy that Joy is Glaucom free.



10. 3. 2012


The agility-trainingsseason started! I made lots of pictures on our last training on the weekend.

More pictures you will find in the album "Agility"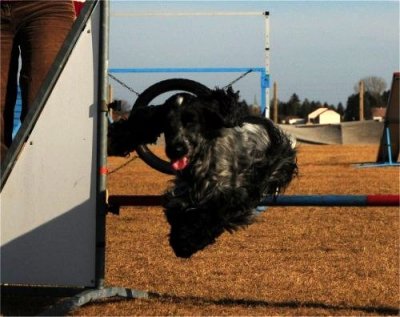 27. 2. 2012


Weekend in Graz is behind us!
Make Me Smile from Luna's Star *JOY* got on both days (IHA and Clubshow) Exc.2 resCAC from judges Mr. Philippe Fortemps (B) and Mrs. Elena Ruskovaara (Fi) with lovely judgereports. I really had pleasure with the comment "she has a perfect body" from finnish judge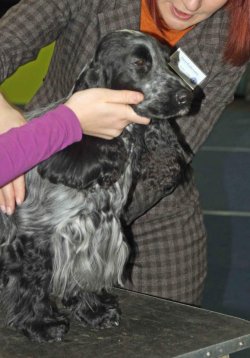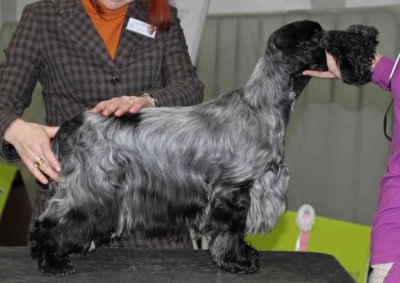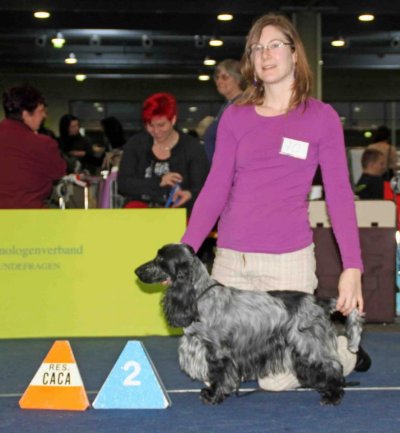 5. 2. 2012


We are back from a great weekend, we were at Duo-Cacib in Brno.
Make Me Smile from Luna's Star *JOY* got on both days Exc1 CAC in open class from judges Mr. Bob and Mrs. Frances Jackson! I'm very happy about!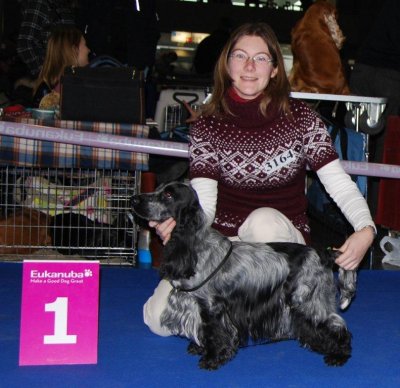 27. 1. 2012


Today Julie got 3rd place in agility LK2 at Master 2011 of ÖGV Poysdorf. I'm really happy and very proud of my black beauty Julie!